English at bottom page 
Surat terbuka kepada Anhar Gonggong
Dear Sir,
Anda adalah Anhar Gonggong, seorang sejarawan terkenal Indonesia dan saya hanyalah seorang Belanda, seorang blogger biasa , namun demikian mohon izinkanlah saya untuk berbagi pemikiran pemikiran saya tentang sejarah kita bersama dan bagaimana tentang melangkah bersama kedepan.
Rawagede, 9 Desember 2011 , saya berdiri tak jauh dari Duta Besar Tjeerd de Zwaan ketika dia menyampaikan maaf kepada para janda dari desa tersebut atas nama Kerajaan Belanda. Pada hari itu saya merasa bangga akhirnya saya menilai pada akhirnya negara saya bertindak dengan bermartabat. Ini adalah langkah awal positif dalam penegakan sejarah kelam kolonial yang berdarah, begitulah yang setidaknya ada dalam pikiran saya. 
Kemarin pada tanggal 12 September , Kerajaan Belanda kembali meminta maaf. Kali ini kepada para janda dari Sulawesi Selatan dan kepada semua janda yang suaminya terbunuh dalam proses eksekusi tentara Belanda selama perang kemerdekaan Indonesia.
Beberapa hari sebelum permohonan maaf ini, anda tampil di "televisi nasional Belanda" menjelaskan bahwa Indonesia hendaknya menolak permohonan maaf Belanda.  Hal pertama yang ada di otak saya adalah : siapa orang ini? Apa motivasinya dan mengapa televisi Belanda memberinya jeda waktu yang cukup panjang untuk tampil? Lalu saya membaca kisah anda "ayahku dan dua saudaraku terbunuh oleh westerling"
Yang terhormat Anhar Gonggong, saya pribadi menyampaikan empati terdalam saya atas apa yang terjadi pada ayah, kakak dan seluruh keluarga anda dan atas bayangan masa kelam yang masih menghantui anda hingga kini, yang telah terhitung hampir tujuh puluh tahun lamanya. Waktu tidak dapat menyembuhkan seluruh luka, bertentangan dengan salah satu pepatah masyarakat bahwa waktu pasti akan menyembuhkan.
Yang terhormat Anhar Gonggong, saya malu mengakui pada anda bahwa tingkatan intelektual  pada debat di Negara saya mengenai tindak kriminal perang di masa lalu masih sangat rendah, sebagian besar dari golongan veteran perang Indonesia ( indie veteranen) dan beberapa golongan lain masih berfikir dan meyakini bahwa tindakan mereka adalah untuk "restoring law and order" dan pasukan Belanda bertindak terhormat selama aksi polisionil. Gerombolan peloppers dan rampokkers adalah biang keladi semua ini, penyebab nyata didalam benak mereka.
"Permohonan maaf yang ditawarkan oleh pemerintah  Belanda pada kamis kemarin di Jakarta adalah tidak perlu dan sebagian besar tentu saja hanya satu sisi. Indonesia juga seharusnya meminta maaf atas pembunuhan di Negara itu". Ini adalah pernyataan dari Leendert Noordzij, Ketua dari asosiasi veteran belanda (VOMI).
Elite politik kami pun secara gila gilaan menggunakan para veteran ini sebagai tameng hidup. Bersembunyi dibelakang pungung mereka, politisi ini  tak mau dan tak ingin disalahkan atas kesalahan fatal keputusan mereka untuk tidak menghormati dan tidak menghargai kemerdekaan Indonesia , padahal disaat yang sama seluruh bangsa di dunia ini telah memahami kapan bangsa anda terlahir, bahwa masa "tempo dulu" bagi Belanda telah berakhir. Dan sebagai imbalan atas semua ini, politisi telah membuat sebuah hukum spesial ditahun 1971 (special law 1971 ). Hukum ini memberikan imunitas kepada seluruh pasukan Belanda yang melakukan kejahatan perang selama era 1945-1950 yang dulu dikenal dengan nama hindia belanda.
Pada hari yang sama ketika permohonan maaf itu dinyatakan di Jakarta. Surat kabar Trouw datang dengan berita mengejutkan bahwa banyak korban terbunuh dalam pembantaian di Sulawesi Selatan salah satunya dilakukan oleh Jan Vermeulen,seorang pahlawan Belanda dalam aksi bawah tanah melawan Jerman pada tahun sebelumnya. Jika saja hari ini dia masih hidup, penjahat perang Vermeulen akan mendapatkan kekebalan hukum akibat "special law 1971". Disisi lain belanda memiliki kredibilitas dan menyatakan diri sebagai pusat keadilan internasional ( Center of International Justice ).
Tekanan tangan kolonialisme belanda selama 350 tahun, telah menyebabkab bermacam penderitaan yang tak dapat terlukiskan oleh kata kata,namun inilah yang menyamakan takdir antara keluarga anda dan keluarga saya.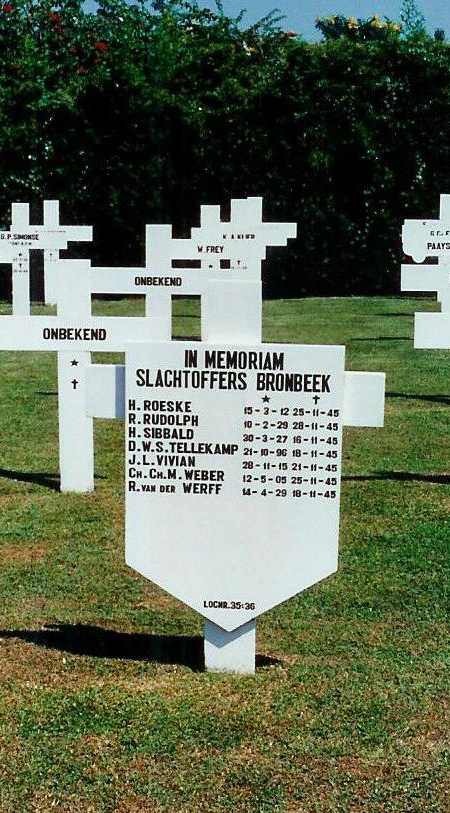 Foto ini adalah pemandangan dimana Rudy van der Werff dikuburkan, dia adalah paman saya, bocah berusia 16 tahun yang tewas dalam keadaan tubuh terpotong-potong oleh gerombolan pada masa yang dikenal oleh kami orang orang Belanda dengan sebutan "masa bersiap" . Sisa sisa tubuhnya digali dan dimakamkan kembali di kuburan massal yang terletak di Pandu, Bandung. "Tidak perlu permohonan maaf, tidak perlu uang dari Indonesia" , ini hanya upaya saya menunjukkan, mengajak anda merenung,  bahwa saya memiliki perasaan yang sama dengan anda, juga dengan para korban dari masa itu.
Yang terhormat Anhar Gonggong, tahun 2015 yang akan datang akan menjadi 70 tahun usia kemerdekaan Indonesia, dalam pendapat pribadi saya, ditahun itu nantinya bisa jadi pemerintah Belanda akan menarik semua permohonan maafnya, mereka akan menarik kembali seluruh perasaan bersalah mereka. Seluruh statement ini, saya kini sadari tak pernah datang dari hati yang paling dalam, namun dibuat akibat dari tekanan dari pihak luar atau dengan motif yang meragukan. Mereka tidak pernah merenungkan dan menyadari bahwa pada masa itu Belanda berada dalam sisi yang salah, sisi yang kelam dalam sejarah bahkan hingga saat ini.
Politisi modern berpikir dalam kerangka "information management and damage control". Meskipun demikian saya berharap bahwa pidato Raja kami pada 17 Agustus 2015 harus mengandung pesan yang kuat akan penyesalan atas "pembelajaran masa lalu" atau tak seorangpun warga Belanda yang menghadirinya. Saya merujuk pada kekacauan kunjungan Ratu Beatrix pada 1995 dan pidato semantik Ben Bot pada 2005
Proses dekolonialisasi di kepala orang belanda pasti akan terjadi juga pada akhirnya. Namun butuh waktu untuk mencapainya.
Hingga saat itu tiba, saya sampaikan pada anda permohonan maaf atas segala permohonan maaf.
Salam hangat
Max van der Werff Jr
 
Connected with content of this letter:
Sukarno: the greatest Dutchman of all times
and
Indonesia Calling

~~~~~~~~~~~~~~~~~~~~~~~~~~~~~~~~~~~~~~~~~~~~~~~~~~~~~
Open letter to Anhar Gonggong
Dear Sir,
You are famous Indonesian historian Anhar Gongong and I am just a simple Dutch blogger. Nevertheless, please allow me to share some of my thoughts with you about our common history and how to move forward.
December 9th 2011 in Rawagede, I stood next to Ambassador Tjeerd de Zwaan as he offered his apologies to the widows of that small town on behalf of the Royal Kingdom of the Netherlands. That day I was proud that my country finally was able to act with dignity. It was a first step to come to terms with our bloody colonial history. So I thought then.
Yesterday, September 12th, the Royal Kingdom of the Netherlands apologised again. This time to the widows of South-Sulawesi and 'all other widows of men who were victims of any summary executions committed by Dutch troops during the Indonesian war of independence.'
Few days before this apology, you were on Dutch national TV  explaining that Indonesia should reject these Dutch apologies. My first emotion was: who is this guy Gonggong? What are his motives and why Dutch state TV gives him such a big platform? Then I read your story : "My father and two brothers butchered by Westerling"
Dear Anhar Gonggong, I personally want to express my deepest empathy for what happened to your father, brothers and other family members and the shadows these tragic events still cast in your life today, almost seventy years after. Time does not heal all wounds, contrary to what the cliche claims.
Dear Anhar Gonggong, I'm embarrassed to admit to you that the level of the intellectual debate in my country about our criminal past is scaringly low and still clouded by al kinds of revanchists feelings. A large and loud section of our 'Indië-veteranen' (and not only them!) still thinks today that the Netherlands tried to 'restore law and order' and the Dutch army acted honourably during the 'policing actions'. Ploppers and rampokkers are the real culprits in their minds.
"Excuses offered by the Dutch government expressed last thursday in Jakarta are superfluous and most of all one sided. Indonesia too should offer apologies for the executions in that country."  This statement comes form Leendert Noordzij, chairman of the Dutch veteran association VOMI.
Our political elite all too eagerly uses these veterans as a human shield. Hiding behind them, our politicians need not be held accountable for their fatal decision not to respect Indonesia's independence in a moment of history the entire world community understood that 'Tempo Dulu'  had gone forever.
The Dutch political elite in return, made a special law in 1971. This law gives immunity to all Dutch soldiers who committed war crimes during the period 1945-1950 in the 'former Dutch-Indies'.
On the same day the excuses were made in Jakarta, newspaper Trouw came with the astonishing revelation that many of the people killed in then South-Celebes are executed by no one less than Dutch resistance fighter and decorated war hero Jan Vermeulen.
If he would still be alive today, war criminal Vermeulen would be immune to criminal prosecution thanks to the special law from 1971. So far the credibility of the Netherlands as self proclaimed 'center of international justice'.
350 Years of Dutch colonial repression have caused indescribable suffering. This is what connects the fate of your and my family.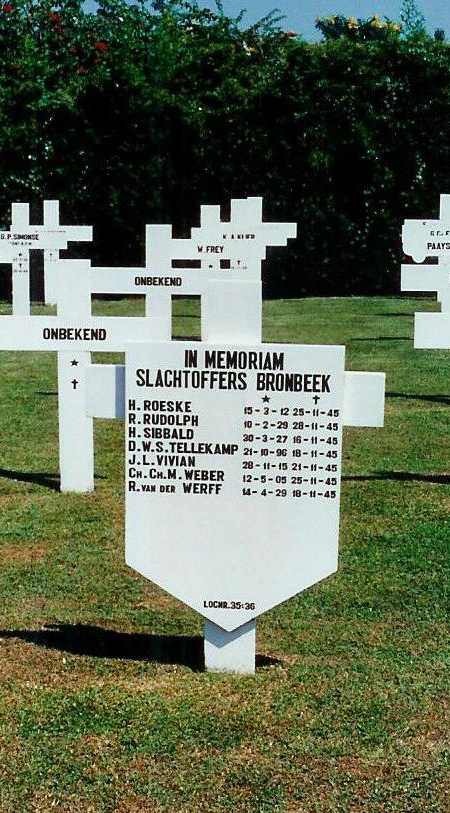 This photo shows the spot where Rudy van der Werff is buried. My uncle, a 16 year old boy, was cut into pieces by a raging mob during what we in the Netherlands call 'bersiap'. His body was exhumed and reburied in a mass grave at field of honour Pandu, Bandung. No need for apology, no need for money from Indonesia! This reflects my personal feelings as you reflected yours.
Dear Anhar Gonggong, 2015 will be 70 years 'Indonesia Merdeka'. In my opinion, that year the Netherlands should withdraw all previously made excuses and withdraw all expressed feelings of regret. All these statements, I realise today, never came truly from the heart, but were made after outside pressure or with dubious motives. They never reflected the sense that we Dutch truly realise we where on the wrong side of history and still are.
Modern politicians think in terms of information management and damage control. Nonetheless, our king's speech on August 17th 2015 should unequivocally contain strong feelings of 'lessons learned' or no Dutch person should attend any Indonesian festivity that day. I refer to the disastrous visit of Queen Beatrix in 1995 and the semantic speech of Ben Bot in 2005.
Decolonising our Dutch minds will happen eventually, but will take time.
Until then I personally offer you my excuses for all excuses.
Salam Hangat,
Max van der Werff Jr.

Connected with content of this letter:
Sukarno: the greatest Dutchman of all times
and
Indonesia Calling